Achieve the beautiful, straight smile you have always dreamed of without wearing braces. Call our office to schedule a complimentary consultation to learn more about Invisalign and determine if it is right for you.
What is Invisalign?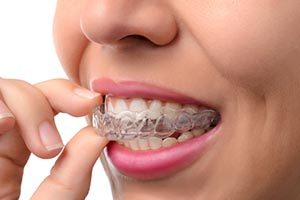 Invisalign is an orthodontic system like braces that no one can tell you are wearing. It is composed aligners that are unnoticeable and comfortable and can be removed for short periods of time. No need in hiding your smile throughout the Invisalign treatment—You can beam with confidence throughout the entire orthodontic treatment. The aligners are made using 3D computer imaging technology. Each aligner builds on the previous one until your teeth are perfectly straight.
Why choose Invisalign?
The aligners are invisible, making Invisalign more desirable than traditional braces. There's no need to adjust your diet or avoid foods that could damage traditional braces. You are not inconvenienced with the tedious hassle of brushing and flossing around brackets and wires. Most Invisalign patients find that they are more comfortable than metal braces. They do not rub against the soft tissues of the mouth and cause soreness. Also, there is no need for routine adjustments, which means less time spent in the dental chair!
How does It work?
A series of aligners will be created that will slowly move your teeth into the desired position. Each aligner is worn for about two weeks before moving on to the next aligner in the series, which moves your teeth a little bit more than the last. The aligners should be worn as much as possible and only be removed when drinking, eating, brushing, and flossing. Invisalign patients have regular visits every 6 weeks to check the process of the treatment, you only need to come in for visits every six weeks. Most treatments will be completed within 15 months.
If you live in the Tampa area, Invisalign treatment is not out of your reach. Visit the Invisalign website for more information or contact our our Tampa office to schedule a FREE consultation.